17 Hour Layover: Overnight in Manila Philippines Airport MNL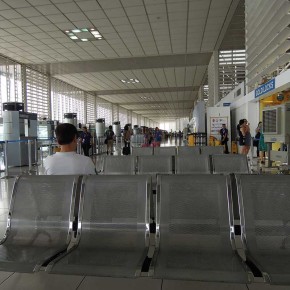 So, here is the question. What do you do if you are caught by surprise and end up with a 17 hour overnight layover in the MNL Manila Philippines airport? Well, turns out, this just happened to us, so I have some personal insight because I'm sitting in the airport writing this blog.
One International Terminal Bathroom
Among the many challenges at the this airport is that all bathrooms except one are closed "under construction" which leaves a total of four toilets for about 500 passengers. Several times we saw the line for the women's bathroom extend to 20 or more women. The men's line was much smaller, but still it makes you wonder.
No ATM Machines & No Credit Cards Accepted
I was absolutely shocked when we looked around at the half dozen food places in the terminal. All had signs saying they only accept cash. Normally this would be no big deal if you had either a money exchange or ATM machine. The terminal has neither. After asking around, I discovered the ATM and money exchange are prior to security on the other side. However, immigration will not allow a person to cross back over once you have your ticket, so there is no way to buy anything if you can't use a credit card, can't get cash from an ATM and can't exchange any money. This is really brutal if you are in an airport for 17 hours. It means no food or drink and the only water will be from the bathroom sink.
Food Choices
If you have local Philippine cash, pesos, you have about six places you can eat which is certainly enough to get by while waiting. The half dozen is plenty if your layover or wait is only a couple hours or even three, but if you are stuck here for 17 hours, things are really challenging if you can't get any local cash.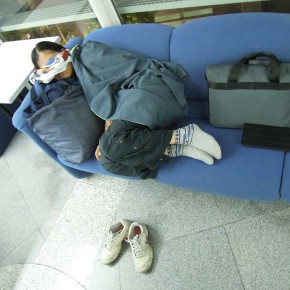 Sleeping at the Airport
If you arrive at midnight, after debarking you will go through baggage, security and customs and then suddenly find yourself outside the airport at the passenger pickup curb. I was totally surprised to be outside the airport and not allowed back inside. The guards will force you to stay outside until 3:00 AM when they begin letting people back inside.
Here are a few insights and thoughts as I am sitting here:
Hindsight is 20-20: Of course, now that I'm sitting here, I realize things I could have done differently (perhaps this blog post will help someone out there, somewhere, to avoid the same situation.
Stress: Mostly I find the whole situation rather amusing, almost to the point of laughing a bit about it; maybe that is a good sign that I'm not stressed about it.
Carefully Review Layovers Before Booking: Obviously the single smartest thing would have been done back when booking the tickets. Yes, I did know I had a "layover" in Manila. However, it wasn't until after the confirmation that I saw how long the layover was. I'm not sure if it was displayed clearly on the website, or hidden until after the booking. I "think" I would have noticed a 17 hour layover it would have been displayed. Fact is, I simply didn't see the length of time and simply didn't go to the effort of researching it.
Before Entering Terminal, Get Cash: Get local cash before entering the terminal (or at least verify there is an ATM or currency exchange inside the terminal.
Sleeping at the Airport vs Hotel: You might want to book a room in advance and arrange for airport pickup to avoid a challenging night of sleeping on the ground or bunch type chairs outside.
I realize now that I could have done things differently and have learned a lot. That said, ironically I really enjoyed my time here during the 17 hours. The whole thing began to be sort of funny after a while and I just decided to accept it and go with it. After all, what could I really do? Each new development just added more humor to the situation. I'm just grateful to have a wonderful girlfriend who shares the same amazing positive attitude!