Adventure Motorcycle Riding in Colorado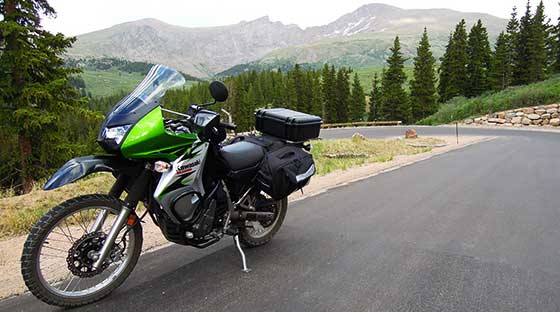 While I was living in Guatemala for the last five months I met over 20 adventure motorcyclists who were all traveling south (does anyone go north?). Most of them were making a several month trek from either Canada or the USA and heading to various destinations in South America (most of them to Buenos Aires). It was only days after meeting my first adventure biker that I started lusting after my own motorbike and looking at doing the same thing.
The Adventure Bike Bug
At first I thought it was a novelty to ride a motorcycle from North America to Central or South America. However, the whole concept really hit home when Guilleme (https://www.facebook.com/guillaume.mauffette) and his buddy hopped on their bikes with two girls on the back and headed out to hot springs near Xela, Guatemala. Hmmm… there might be something to this who grab a hot girl on the back of your motorcycle and go thing. Certainly traveling with a motorcycle had its advantages in picking up chicks in hostels and spanish schools. Months later, after more research, I started watching the two motorcycle documentaries by Ewan McGregor  (of Star Wars and other movies) and his buddy Charlie Boorman  called the Long Way Round and Long Way Down (http://longwayround.com/). The Long Way Round was a trip where the two traveled on motorcycles from England across Europe and Southern Russia, then transported their bikes by plane to Alaska where they continued across the USA until they reached New York. In the second documentary they traveled south from England to the southern tip of Africa. I wanted to make my own adventure and thought that I could put my months of Spanish school to good use by riding a motorcycle from Colorado south through Central and South America.
Buying My First Motorcycle
I asked all the adventure motorcyclists I met in Central America which bike they thought would be best for me to buy for a trip south from Colorado through Latin America. I'm guessing about 70% of those I asked owned the Kawasaki KLR650. All of them recommended it. The others who didn't own the KLR650 all told me, "Well, I have the BMW GS1200 (or whatever bike they owned), but it is hard to get parts down here for my bike, so I recommend the KLR650." Not one person recommended another bike. So, when I returned to Colorado in April I started shopping craigslist for the KLR650. Within two weeks I had purchased my first bike, the 2008 KLR650 you see in the photo here.
Additions to My Adventure Bike
In order to travel long distances, you have to have a lot of stuff with you, and stuff requires storage. I purchased several items to make loading the bike up with gear easier:
Diamond plate Soft Saddlebags (very cheap on Amazon)
Tank bag
Seahorse hard case for rear top
Gearing Up
Beyond the typical motorcycle gear of helmet, jacket, gloves etc., I started purchasing camping equipment that was bike friendly. Here is a list of gear I've purchased:
Eureka 2xt Apex tent
Coleman Big Basin Sleeping Bag (this is a tall bag for up to six foot six!)
Tall Sleeping Pad from Outdoor Outfitters
iPhone holder for handlebars
Pocket fisherman & small starter set of lures, bobbers etc.
Bungee Cargo Net
bungee cords and synch straps
Dry bags for loose stuff to strap onto the bike
Running Out of Gas in Colorado
On my second camping trip with my bike, I rode down to the Valley View Hot Springs to go camping with my friend Doug. The ride was about four hours. While the ride was difficult for me due to high winds, it was an extremely good learning experience on a number of levels. I learned how to pack my bike for a two day trip, I learned about navigating over longer distances, and most of all, I learned my motorcycle doesn't get great gas milage at highway speeds in high winds. Normally I fill up my bike every 230-240 miles and there is still plenty of gas left in the tank. There is no gas gauge, so I reset the trip odometer every time I fill up. However, on this trip I only got 179 miles before I ran out of gas. I used my one life-line and called a friend to rescue me. Fortunately I was only about 10 miles from Valley View Hot Springs and Doug was able to bring me gas (thanks Doug!). After I got back to Denver I was talking to a friend about my experience and running out of gas and he asked, "did you use up all your reserve tank as well?" I was dumbfounded and answered, "I didn't know I had a reserve tank." After that he walked me over to my bike and showed me the level to use the reserve tank. I had to laugh because the whole experience was so ironic and amusing!
Several Overnight Trips Later
I've been riding as much as possible in the mountains to get experience. At this point I'm feeling very limited by the limited storage capacity on the bike, particularly when I'm carrying full camping gear. I'm trying to come to grips with the situation when addressing the idea of traveling six months with the motorcycle. I think it will become clearer if this is really possible for me once I do a week long trip which I hope to do in late July. Right now I'm still doing one and two day trips, so time and experience will help me decide if riding through Latin America really is something I can or want to do!