Baños Ecuador–Hot Springs Mecca
Most everyone that learns Spanish, first learns the phrase: "Baños por favor?" which loosely translated means, "Bathroom please?" However, few realize the word actually means "bath" as in taking a bath or a bath tub. The city is not named after the word toilet, but rather for its abundant number of natural springs in the area.
Hot Springs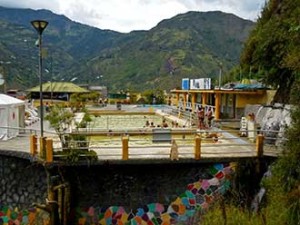 There are several hot springs around Baños, but the cheapest, and most popular, is the public hot springs. Entry is $2 during the day and $3 at night. They have four pools of various temperatures.
Extreme Outdoor Activities
Although not my thing, Baños is know in Ecuador for the best in outdoor extreme activities. They have zip-lines stretching across canyons and waterfalls, cable cars (for those less adventurous), canyoning (climbing down waterfalls in special water gear and ropes), white water rafting ($30), off-road bicycling ($5 day), dune-buggy rentals ($20/hr) and all other forms of standard outdoor activities like hiking, camping, etc.
Massages
For $20 you can get a 70 min full body massage with a facial, hot stones and oil. I did this twice and found it a wonderful way to relax.
Waterfalls and Volcanoes
There are 60 waterfalls surrounding Baños, most of which can be reached by hikes or tour buses. I took a $6 tour bus to see about half dozen of these which were along the highway. Most had zip lines where the tour guide encouraged us to buy rides. Rides were $10 to $15 each plus a bit extra if you wanted photo prints of the experience. Seems everyone with a GoPro camera signed up for this. There is also a huge volcano about 30 minutes south of the city. One of the most popular tourist things to do is to visit the Casa de Arbol (tree house). Tourists call this the "swing at the end of the world" where you can get great photos swinging off a cliff-type hill with a volcano in the background. It had fantastic views and well worth the $1 entry.
Taffy Pulling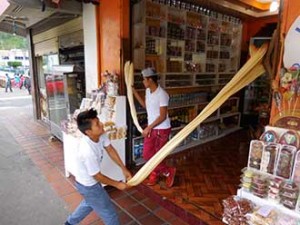 One of the local trades is making candy taffy. Dozens of shops in the downtown area have pegs mounted on walls or columns of the entry where young men stand throwing and pulling taffy during tourist hours. It is pretty amazing to watch!
Cost of Living
Ecuador is cheap (with possible exception of Galapagos). I spent $10 a night for my bed in the hostel (shared with four others). Breakfast was included seven days a week and they also include dinner on Monday through Wednesday. I bought my lunches in the central marcado for $2.50 (chicken, rice, salad, potatoes and veggies). Dinner usually ran me $3 or $3.50. It was pretty easy to live on $15 a day here.
Don't Drink the Water
The general rule of not drinking water applies to much of Latin America and Baños is no exception. At some point on Friday evening I digested some bad water and was infected by those pesky micro-bugs resulting in diarrhea for the next three days and body aches for about four. After 36 hours I went to the local hospital and received treatment; within four or five hours I started feeling much, much better! Cost for my emergency room visit? Nada. Ecuador has government health care which covers tourists. Pretty sweet!