Bogota Colombia
More than a few of my friends whispered concerned warnings to me about being kidnapped when I announced my intention to visit Colombia; this fear is the norm among Americans who follow the media. Colombians have similar fears about coming to New York, Chicago or Los Angeles because every crazy American is carrying a gun. The media seems to always lean toward shocking news to boost ratings. What most Americans don't know is that Bogota has a lower crime rate than Washington D.C. but like any big city, it has areas that are less safe at night if you are walking solo.
Anandamayi Hostel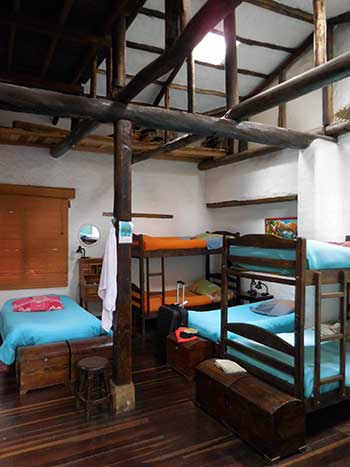 I absolutely love two kinds of travel: 1) couchsurfing where you stay with a local for free 2) hostels, where I stay in a dormitory with six to ten other travelers. Couchsurfing usually requires a week or more of requests online to hosts in order to find accommodations–it takes lots of work and rarely works on short notice. I booked a hostel in the historic area of Bogota in a rustic, non-party type hostel called Anandamayi, named after a famous female Hindu guru. The hostel here is fabulous and ranks among my favorites I've stayed in. My dorm bed costs me $10 a night and includes a free breakfast (I'm having eggs, toast, oatmeal, fruit and coffee or tea every morning). The hostel appears to have been built from a historic barn or perhaps a workshop of some kind. It is made of adobe and timber with the classic Latin styled tile roof. It is quite fabulous!
My Cost for a Day in Bogota
There are three things I obsess on when traveling: food, cultural differences and language. The food in Bogota is cheap, very cheap. I eat breakfast each day in the hostel for free. Lunch typically costs me $2 and dinner $3. I even had a big ice-cream cone from a street vendor for $1. Including my hostel room of $10 my daily budget is usually around $15 to $18 a day.