Casa Perico Rio Dulce Guatemala Review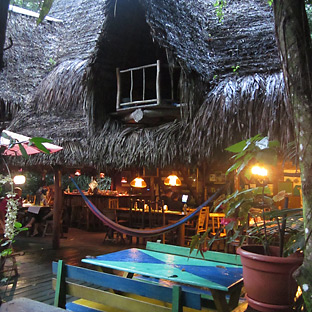 Casa Perico is about 10 minutes by boat from Rio Dulce Guatemala. We took a small launch to get there and arrived in the afternoon. The Lodge itself is beautiful and quant. The whole place is suspended on poles about three feet above the mud and ponds of the swamp land of the river. The main building is a bar and restaurant with stairs in the middle leading up to the second floor which had six dorm beds and two semi-private rooms. I rented one of the semi-private rooms. I took tons of photos in the afternoon and evening and was enamored by the beauty of Casa Perico. I had a fantastic afternoon and evening at Casa Perico.
Why I Don't Recommend Casa Perico
Around 9pm the bartender started playing with the volume on the small stereo. Every time a favorite song came on, he turned up the volume to about double of what it was, maxing out the stereo until the speakers were buzzing with distortion. For some songs we had to cover or plug our ears because it was so loud. Some of our group moved to other parts of the bar area just to get away from the speakers. At 11:30 I asked the bartender when they would be turning off the music so I could sleep. He answered, "I don't know. We will turn off the music when no one is drinking." After that several people in our group of 10 asked them to reduce the volume. The bar tender would turn down the music for one or two songs until another song came on that he liked, then he would max out the volume. We asked how we were to sleep with the music and we were told that if the music bothered us, we could 'upgrade' to the bungalo huts that were away from the bar area. I went to bed at about midnight and covered my head with a pillow to try to muffle the sound. Ear plugs didn't help. The music continued until around 2pm after which I drifted off to sleep. We woke to the drunks from the bar yelling and cursing each other at around 6am as they went to work and started their day. Needless to say I have a very low opinion of Casa Perico owners and their staff (the owners were there at the bar the entire night). It was poorly done and I recommend avoiding Casa Perico.
Pros:
Reasonable prices for rooms & food
Beautiful lodge and surroundings
Cons:
Unfriendly staff
Remote location
Most rooms directly above the bar
Bar often plays music on weeknights (as late as 2pm) making sleeping impossible