Food in Utila Honduras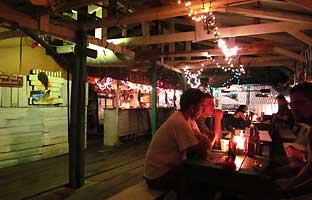 I have a new appreciation for seafood. The fish plates in Utila restaurants were absolutely amazing. For 120 limpera (about $6) you could get a big grilled fish fillet and three sides. The plate was huge and a challenge to finish. Beer was an additional 30 limpera ($1.50). I ate fish almost every night I was there and I suspect it will be some time before I find fish that good again.
My favorite places to eat in Utila are:
RJs BBQ Grill: this place has the best fish I've ever had with no exceptions! Downside is it isn't open every night. If it was, I'd eat only here. Service is slow and not that great; expect to wait a good 30-40 minutes for your meal.
Main Street Cafe: like RJs, this place is closed some nights. I ate here three times and enjoyed every meal. Service is slow and not that great.
Other places I ate were:
Mermaids: cheap cafeteria type food
Bubalu's: this is an awesome place to go for a drink, but I found the food just so-so in comparison to my favorites
Skid Row: I had a very good BBQ pulled chicken sandwich here. I'm told pizza was good. Mostly I didn't go back because it was on the opposite side of town from where I was staying