Galapagos Islands, Ecuador
Truth be told, I really didn't know the Galapagos were here in Ecuador. My geography improves as I travel and occasionally, in situations like this, it is a pleasant surprise to discover something so special right in your path of travel. After leaving Bogota, Colombia, I flew to Quito in Ecuador (the cheapest flight I could find out of Colombia). I should mention I my travel plans are very loose in that my desires were to practice Spanish, explore as much as South America as possible and see any "must see" destinations along the way. The Galapagos falls into this last category.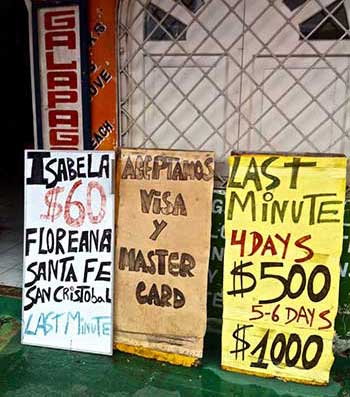 Flights into the Galapagos Islands
For several years the cost of flights round trip from the mainland to the islands has run about $350 to $500 in the low season and often higher during peak seasons on summer and Christmas. Because of a volcanic eruption just weeks ago, apparently many tourists cancelled flights and cruises. This resulted in a slashing of prices all around. I was able to book a round trip ticket for $217 (about half price). Entry into the park costs another $100 plus a $20 "visa" fee. After that you have food, accommodations and activities. I'm a budget traveler, so I'm spending about $15/day on food which is a lot for me, but about half of what the average tourist spends here. Paying cash without a reservation can get you a room without AC for $15/night or with AC for $25/night with luxury hotels at $80 to $100 night. Also, I forgot to mention the currency here is the US dollar; I'm scratching my head as to how that happened.
Booking a Last Minute Cruise
I decided to fly out to the islands and see if I could get a last minute cruise at a reduced price which I did. I saved a bit over $1,000 on an eight day cruise by booking directly with an agent on the island a half day in advance. In other words, it is very rare that you can get deals like this, but if you have flexibility, I'd recommend giving yourself two or three days after arriving to setup your cruise. It will save you big bucks. A couple of other words of advice: double check details online before paying. I was lied to and told my cruise was 8 days and 7 nights. It was 6 nights and 6 full days plus two half days. Also, I was told my boat was "superior class" but it was "economy tourist". I had been told other boats were "first class" but later found out they were "superior class". In other words, they lied about the category of the boat on a regular basis stating it was one class higher than rated by the official Galapagos website. At first I was upset, but then quickly realize regardless I was saving so much money by booking last minute that complaining would be futile. Truth in advertising doesn't apply here. The rule is "buyer beware" and check your facts before paying.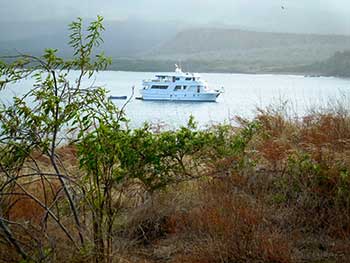 Darwin Yacht
This is definitely a backpacker, budget style boat and perfect for my needs. I loved the experience of my first multi-day boat cruise. They crew spoke almost no English and it was great practice for me to be forced into speaking Spanish to communicate my needs. Regulations in the Galapagos require landing parties to be no greater than 16 people and accompanied by a licensed guide. As such, our boat was designed to hold 16, the guide, plus a boat crew of six. I think the size of the yacht was perfect for the calmer waters near each island. However, travel between islands was rather brutal and one night felt much like a scene from the movie "The Perfect Storm."
Iguanas
For some reason, I had thought the Komodo Dragons were found in the Galapagos; apparently not… they are found in Indonesia. The iguanas in the Galapagos are big, but not that big. They are about three or four feet long and about the size of a human leg. Many have white heads or faces which I thought looked oddly like they were wearing white sun block. Like other creatures here, they are not afraid of humans and I've almost stepped on a dozen or more. The problem is that tourists are gawking at sights around them and not looking at the ground and the iguanas often lay on surfaces near their own skin color. We saw both land and swimming, water iguanas.
Giant Land Tortoises
No doubt about it, these are huge creatures. When they move, it looks like a moving dog house. Males are almost double in size of the females. Females have flat bottoms and males have concave (making mating possible). Although I thought they looked slow, we were told they can travel up to 5 kilometers each day. Eggs are found as soon as they are laid and taken to the Darwin Center for hatching. Babies are raised until their shells harden then released back to original locations in the wild. This program has brought many varieties of giant tortoises back from near extinction. Life spans are nearly 200 years and they can go over a year without food or water. That in itself is astounding.
Sea Lions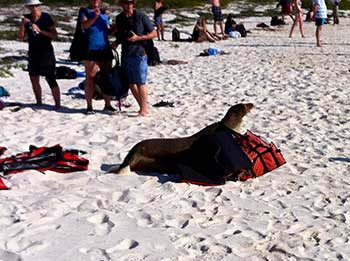 I guess I should tell you what is going on in the photo here; just after we arrived we piled all our life jackets together in a pile. Several of us, myself included, put our day packs on top of the pile of life jackets. About five minutes later after we left the area, this sea lion came out of the water and made his way up the beach to dig his way into the pile of life jackets for some shade. We left the sea lion alone for about an hour before he decided to head back to the water. However, his head was caught in several life jackets which he began carrying with him to the water. It was both comical and scary to think of him getting caught up in the jackets. A couple of nearby guides grabbed one of the tangled jackets and helped the sea lion get out of them. The sea lion didn't like it when it was happening but seems grateful after it was free and realize the human was just trying to help.
Massive Sunburn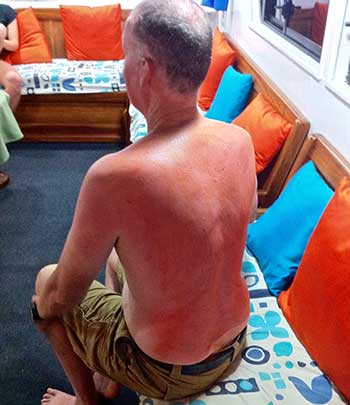 I was so very careful while traveling to always use sunscreen or stay in the shade. I used my hat whenever outside. I had a shirt for snorkeling. However, there was a rush on the beach as the guild yelled from the water, "anyone else coming to see the sharks?" I quickly scrambled to get my fins, mask on while stashing my clothes on the beach. In the rush, I pulled off my t-shirt like those around me. I just didn't think. The result was a bright red burn that lasted for six days!
Red Balloon Frigates
The males have these huge balloon pouches to inflate over a 20 minute period of time. They sit on nests they have built trying to attract females flying over head. The balloon pouches are really quite something to see!
Sea Turtles, Sharks & Rays
I didn't have an underwater camera with me and found out on the cruise I could have rented one before leaving. Oh well! During our snorkel trips we saw lots of amazing underwater creatures. One time while in murky water near a beach I almost swam into a shark (less than 10 feet away). Fortunately it was more scared of me and swam quickly away. Several times we saw sharks and I only saw the sea turtles and rays at Kicker Rock. Others claim they saw a penguin once but I never did. One night on the prow of the boat I thought I saw a dolphin jumping next to the boat, but no one else was there to confirm what I saw so it might have been wishful thinking.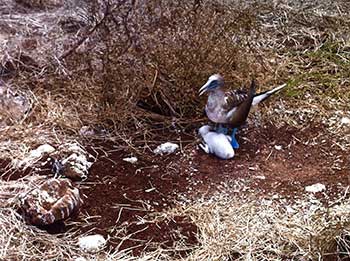 Obsessions with Boobies
There are a lot of funny t-shirts sold in Puerto Ayora with word plays about "I heart boobies" etc. There are two kinds of birds here called Boobies–red footed boobies and blue footed boobies. The red ones are less common and both seem unafraid of people. They liked to hatch eggs right on the tourist paths so we had to be careful not to step on eggs or chicks with their mothers.
Sea Legs
After about two days I began to get my sea legs and no longer felt motion sick. The weirdest part was after leaving the boat. It took me almost four days to stop swaying. Every time I stood up I felt I needed to hold onto something as the ground seemed to move beneath me.
Two Week in Galapagos
I will say that it has been a fantastic two weeks in the Galapagos. I spent eight days on an amazing cruise seeing several islands and a wide variety of landscapes and creatures followed by a week to recover from my sunburn and being back on land. I did explore the area around Puerto Ayora each day with visits to the Gorge (a break in the lava flow which has filled with water and popular for swimming). I also make the trek out to Tortuga Bay to walk on the beach and wade in the water at 8am. This has been a super relaxing and incredible place to visit!