Happy Breakfast in Taiwan
I absolutely love breakfast and, on a side note, it is one of the few meals that I feel I can cook well. Psychologically, eating breakfast each day sets my emotional mood and gives me a sense of overall stability. I'm not sure why, but I seem happier and more content with breakfast in my daily routine.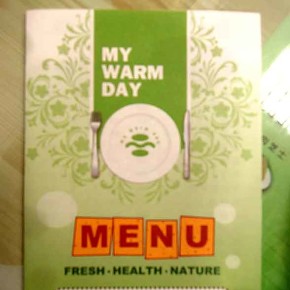 Look for Smile Cartoon Logos
An interesting, and popular trend in Taiwan is eating out for breakfast at "wester style" happy breakfast shops. These shops are common and can be found every few blocks in the big cities. You can immediately identify them by the signage outside and the color schemes. Often they have logos with smiley faces and English names like "happy", "warm", "bright", "smile", or "beautiful."
Happy Breakfast Food
I've eaten at several of these now. Most focus on two main menu items: omelets and hamburgers. All have served eggs with various kinds of meat and veggies. I've not seen sausage or bacon and the spices seem a bit unique to my palette (I'm no expert on these things). None had pancakes or french toast. Most serve hamburgers; for some reason, hamburgers are extremely popular for breakfast. They are served with a soda, but no fries. The burgers are of the quality found fast food places like McDonalds or 7-Eleven variety rather than the big gourmet burgers found in some American restaurants.
Decor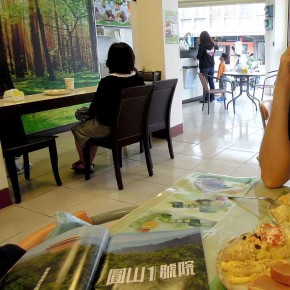 All of the places I ate looked like they were decorated by Ikea. They all had ultra modern decor with fresh bright greens and yellows. Some even had giant full wall murals of large photos of forests or beautiful European women skipping and running through fields of flowers. If only doctor's offices followed the same mind-set behind the interior decorations, I think we'd all be better for it!