How to Do a "Temple Stay" at a Buddhist Monastery
While traveling in Taiwan I came upon a unique opportunity to stay at Fo Guang Shan Monatery near Kaoshsiung (which many believe is one of the largest Buddhist monasteries in the world). Before this trip, I had no idea you could stay in one. Apparently most of them offer limited dormitory rooms, but be aware they are separated for men and women. Only the larger monasteries have rooms for married couples which are closer to a traditional hotel. We choose to stay in the dorms just for the experience with the added bonus of saving some bucks.
To stay, you call in advance and make a reservation for a "temple stay." The cost was $300 Taiwanese dollars per night (which is about $10 USA). Of course it helps to speak Mandarin or Taiwanese, but you should do fine on the phone speaking English. When we arrived we checked in at the reception area at the bottom of the hill for information and directions. At the same time we checked in, we also arranged an English tour for the next day to be given by either a Buddhist monk or nun. They sent us up two giant sets of steps to another building called the pilgrims lodge where we found the dining hall and cafeteria. Off to one side was a small desk with a nun sitting behind it. All the monks and nuns had shaved heads and wore simple light brown garb. All of them I saw had three circular dots on their foreheads just into the hairline. I later learned that they received these burn scars as the final part of their training as monks (a sort of graduation ceremony).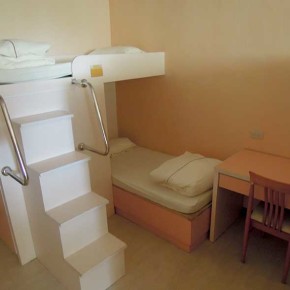 We were assigned dorms and bunks and directed up to the respective men's and women's areas where we left our things before exploring. Each dorm held about 30 beds in a pseudo bunk bed configuration with a writing desk and plenty of storage. My dorm had only three other men in it which all appeared to be long-term residents. They didn't speak English, but pointed to things and showed me where light switches were located as well at the bathrooms. There were two shower rooms and two toilet rooms.
Three meals a day are served in the cafeteria for those staying in the dorms. The food is free but donations are encouraged. However the donation box is not located directly near the food and off to the side and no-one will be looking at your with anger if you don't donate. I think you could eat for free and no one would give you a hard time about it. The food was all vegetarian and very plain (with little in the way of salt or spices). It is pretty what what you might expect monks to eat. We saw three or four tourists there who spoke English, but the majority of people eating were staff at the monastery.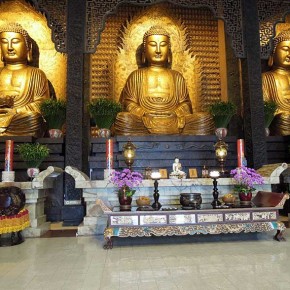 The first morning my girlfriend decided she wanted to join in the morning chanting which was held in the main hall at the top of the steps. The main hall is very large with three giant gold figures sitting about 15 feet above floor level on the far wall. At the center is the Saykkimuni Buddha (the historical prince) and to the right and left are medicine Buddha and pure land Buddha. In the walls surrounding are shelves holding thousands of small Buddhas. By small, I mean they are only maybe a foot or two tall versus 60 feet like the three large gold Buddhas. The chanting starts at 5.45 in the morning and lasts for about 45 minutes after which everyone files out for a morning breakfast which takes place in total silence. Anyone visiting is welcome to attend as long as they observe the guidelines for participation.
We stayed at the monastery for two nights and on our second day we spent the majority of the morning with Master Jiru, a nun from Taiwan who spoke very good English. She met us just after breakfast and spent about four hours showing us the visitor center on the other side of the hill. Both the main monastery and visitors center were absolutely huge. It felt more like going to a religious Disney World given the size and things you could do. We spent hours walking from exhibit to exhibit. We watched a 4D movie with polarized glasses telling the story of the Life of Buddha and the how the monastery got started. We went through several art galleries and saw the works of 100 artists, all artwork variations of aspects of the visitor center. I think I saw the big 108 meter Buddha outside rendered in watercolor, oil, pen and ink as well as pastels. Some of the work was very impressive. At noon Master Jiru took us to the bottom of the visitors center which contains several gift shops and an elegant five star vegetarian restaurant. Although the tour was free, we offered to buy her lunch (in reality I think it is assumed you buy your monk or nun lunch after the tour). Lunch was exquisite and it really felt like a total five star experience. We had about a six course meal and each dish was absolutely delicious. Master Jiru explained the restaurants primary purpose was to show meat eaters that vegetarian food can not only taste great, but surpass most meat dishes in taste if prepared correctly. The total bill at the end was $1400 for three people (that's about $45 USA). Not bad.
We spent the afternoon learning calligraphy and Master Jiru texted us inviting us to dinner with her and the other monks in the private dining hall for a silent dinner which was an experience in and of itself. The whole experience was amazing and fascinating to see how the Buddhist monks and nuns live their lives. I highly recommend it for anyone who has a chance to experience it.