Huaraz Peru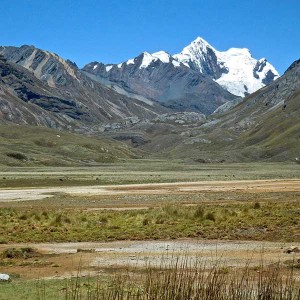 Tall Mountains!
The Andes mountains in Peru is really tall with 37 of these mountains over 20,000 feet (6,000 meters). Wow! I stayed in Huaraz doing nothing but walking around the town center and working online for two days just to adjust to the city altitude which is 10,000 feet (3,000 meters). Coming directly from the coast, one of the first things the owner of the hostel told me was to take it easy for a few days before trying any hikes. He was right. I had some headaches from the altitude change. I don't think I could have started sooner if I had wanted to.
Trekking
Don't get me wrong, I love nature and being outdoors. I love walking at a leisurely stroll through the trees, around lakes and along streams. However, lugging a 40 pound pack on my back for days while freezing is not my idea of fun. But, if trekking is your thing, Huaraz is definitely a great place to do just that. The town was filled with people planing three and four day treks through these beautiful Swiss style mountains.
$10 Tour to a Glacier
I paid a small sum of $10 to do a day tour up to a nearby glacier at 16,400 feet. This was a two hour bus ride which included a stop half way for special Coca tea which locals claim helps eliminate some of the altitude sickness. They also made it clear we would not be spending much time up there; the thought process is that you go up and get back down to lower altitudes as quickly as reasonable to avoid getting sick. We did make a couple of stops on the way up at some nice lakes and a blue mineral pond.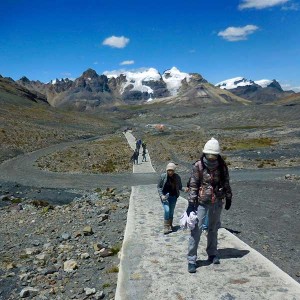 Walking Very, Very, VERY slowly
Take a look below at the photo. The nice paved path could be walked in about 10 minutes if at sea level. However, it was all I could do to make the trek in one hour while walking at a snails pace (with my heart pounding and breathing hard). I was very thankful that before I began, the guide gave a lecture of walking very slowly for the first 15 minutes and just to take your time. Stop if your heart starts pounding too much and be aware of your breathing!
Cost of a Typical Day in Huaraz
I'm going to continue to provide an idea of what it costs to travel "backpacker" style in various locations in South America. Outside of the costs listed below, I paid $10 for a day tour to the glacier. Entry to the park was $3 and the tea was $1. The bus to Huaraz (8 hours) cost me $20 for 1st class luxury reclining seats including dinner.
Private room: $11/night (dorms were $6 but decided to treat myself for a few days)
Breakfast: $4 (full Americano breakfast of eggs, bread, juice and coffee)
Lunch: $5 (soup, chicken, rice and fries)
Dinner: $4 (chicken, rice & veggies)