Lanquin and Semuc Champey Guatemala
Zephyr Lodge Lanquin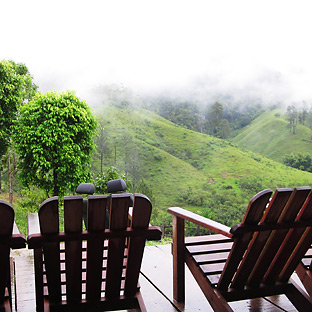 One of the best and most amazing places I've ever stayed is Zephyr Lodge in Lanquin. It was almost a polar opposite to my experience in Rio Dulce. The staff at Zephyr are more like your favorite bar tenders. They were entertaining and ultra friendly. The lodge is perched at the top of a hill and has a 240 degree view down into a valley where a river winds its way through the hills. Clouds touch the hills on the other side of the valley making the entire scene very surreal. Not only is Zephyr blessed with amazing panoramic views, it also has excellent food at very reasonable prices. Sure you can go into Lanquin and save money by eating from street vendors, but food prices at Zephyr are compatible to those of most restraints in Guatemala and the quality of food better than most. About the only negative point against Zephyr would be their attempt to accommodate everyone. Their capacity is around 40 people and because it is so popular, people beg to sleep in hammocks, on floors of storage sheds and even setting up tents on the lawns. This makes for a lot of people in a small space. However, the positive vibe at Zephyr is contagious and it only makes the experience feel like a big, happy family. After leaving almost everyone has a tear in the eye and fond memories of great times with new friends. It's an experience to cherish and remember and among the best I've had in my travels. I would put Zephyr among the bucket list items for Guatemala and definitely the place to stay if you want to see Semuc Champey.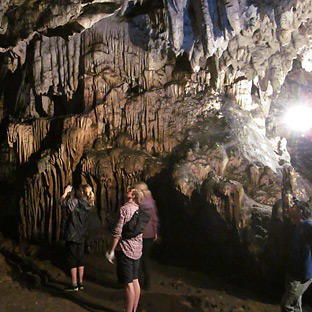 Bat Cave of Lanquin
Although I was disappointed there was no bat mobile in the bat cave, for 30 quetzals (about $4), climbing and exploring the bat cave was a lot of fun. We walked about 15 minutes in the rain one evening and hired a guide to take us into the cave around sunset. The bats were just starting to fly out of the cave and continued to do so over the next two hours. They estimate over a million bats are in the large caves and exit the cave each night to find food in the jungle outside. Visitors are treated to dozens of bats flying past them at any given moment and sometimes have them pass close enough to feel air as the bats attempt not to collide with visitors to the cave. The cave is filled with stalactites and stalagmites in interesting formations. I think it is well worth seeing.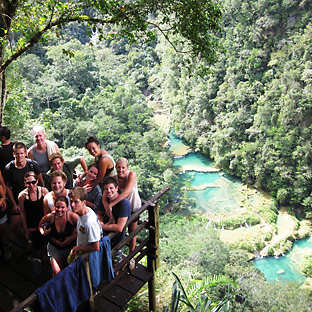 Semuc Champey
I saved the best for last. We were lucky on Saturday to have the first day in two weeks without rain. The day was clear in the morning as we loaded a dozen of us into the back of a truck for the hour ride from Lanquin to Semuc Champey. To make things interesting, the driver picked up another 10 Guatemalans so that we were all packed in like sardines. We became very friendly with friends and neighbors as we climbed the muddy, bumpy roads to our destination. Our day trip was divided into four activities: 1) cave exploration 2) rope swing over the river 3) bridge jumping into the river 4) a hike up the hillside to an overlook and last 5) swimming in the pools of Semuc Champey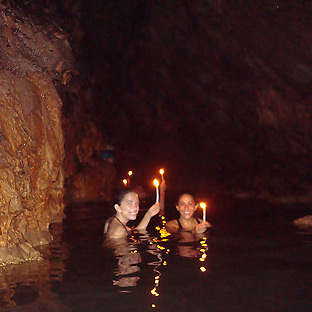 Caves at Semuc Champey
The girls looked a little silly in tennis shoes and bikinis (I think they would have looked better in high heels but somehow the girls didn't agree). Footwear was necessary for protection on the sharp rocks in the cave, and swim suits because most of the cave was filled by an underground river. We spent the next hour carrying candles while wading through waist deep water, swimming parts which were deeper and climbing walls next to underground waterfalls. It was a scary and slightly dangerous experience that I doubt would be possible as a guided tour in the USA due to liability issues. I opted out of jumping off cliffs into unlit dark pools of water below (we only had candles which kept going out). That said, the cave at Semuc Champey is my favorite experience in central America thus far. I absolutely loved the thrill of wading the underground river and exploring the cave with just a candle, but don't recommend it for the faint of heart or those concerned about potential injuries from falling or banging up your body.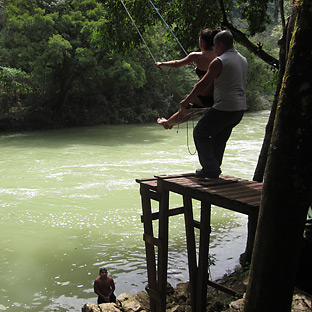 Rope Swing and Bridge Jump at Semuc Champey
I took a pass on these; it was just a bit too much adrenaline. But others indulged in jumping off the bridge into the river below and jumping from the huge rope swing that was on the river's edge at Semuc Champey.
Hiking to the Overlook
I guess in the opinion of our guide, we needed more cardio. He took us on a hike up the hillside of the valley to a scenic overlook. The guide took pictures of the group with Semuc Champey below. After we ate our lunch and descended to the pools below for a swim.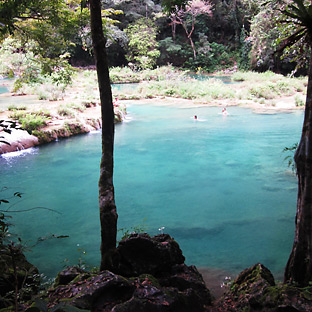 Pools of Semuc Champey
What can I say except the pools here were like something from the movies. They were a stunning color of aqua blue. We climbed from pool to pool diving from some and sliding between others. It was a nice way to cool off after the hike and fun to see who was brave enough to do belly flops or head first dives into the lower pools.