Putting the Fun Back into Adult Birthdays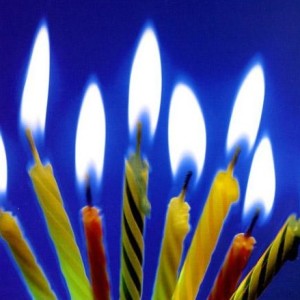 Spankings, cake, candles… and presents! Don't forget the presents. Oh, and ignore the snide comments about growing older or people who notice gray hair. Was that a new line I'm seeing the mirror? Birthdays seem to arrive faster and faster each year. For a long time I mostly ignored them. Maybe I had a small dinner with a friend or someone I was dating, but that was about it. However, lately I'm developing a new take on birthdays, one that I'm really enjoying. I all started with the week long birthday of my friend Giovanni.
A couple weeks prior to my birthday, Giovanni celebrated his own. I think it was that experience that convinced me that my friend knows how to do birthdays right. What did Giovanni do different? Well first he is in his 30s and pretty much said that he was going to celebrate his birthday all week long. I spent most of those nights celebrating with him and if birthday fever was in the air, I definitely caught it.
Surprise Pizza Dinner
The week-long celebration started with a surprise dinner party for him at his favorite pizza place. There were 20 people there which his girlfriend and family had invited, including his mother and daughter. Presents were given, birthday songs sung, and balloons bounced around the long table like beach balls at a rock concert. After dinner, eight of us drove a mile or so to the movie theater.
Movies!
We all met at the IMAX theater for the opening night of Ironman 2. I wrote in an earlier blog about where not to sit when going to IMAX. If you read that post, you might have gathered that we ended up in the second row on the far right. Not a great location, but it was awesome to see the movie with the birthday boy and friends.
Saturday Pool Party & BBQ
Around noon on Saturday the crowds started arriving for the birthday pool party and barbeque. I'd say about 50 people arrived from noon till midnight. People were swimming the pool which was being used for the first time that season and it seemed like there was a record attempt to see how many people could actually fit in the hot tub. There was lots of food, cake and cookies. The whole event was just awesome!
What did I learn from all this? I learned birthdays don't have to be things to be shunned with just a token dinner for two. They can be excuses to gather lots an lots of friends and have a great time. I absolutely love my new attitude on birthdays! I simply can't wait for my next one; in fact, I'm thinking I should have one next month!