Running a DJ Business in High School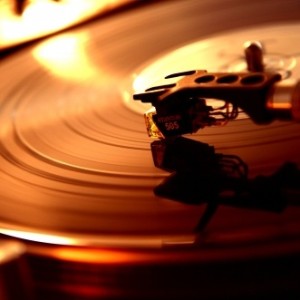 About the time that I landed my first job ever working in a drug store, I began my obsession with HiFi equipment. I begged my parents to take me to the hifi store at every opportunity. I then began saving my money for a 'true' hifi system. After buying a pre-amp and amplifier, I came up with the idea of DJing for dances in order to leverage my new hifi equipment into more equipment. That's how it all started. My first dance totally sucked, but I kept at it by buying equipment and practicing for hours. I just knew I could be successful at it if I kept practicing and buying bigger and better equipment.
My junior year in high school is when I finally started landing regular jobs DJing. I did all the high school and junior high dances as well as all the Mormon church dances for the western slope of Colorado. I built a gigantic stack of speakers which stood over eight feet tall as well as large walls of lights hooked into a timer system. I had a big DJ booth. As my equipment collection grew, so did my transportation needs. For a while I move things about in a trailer, but eventually it became unstable as it was overloaded and the wheel base on my Jeep was far too short to carry the load. My father helped out with a creative solution of buying me my first car, a 1969 Cadillac ambulance.
I continued DJing through the end of high school doing two proms and several homecoming dances. I kept DJing in college until the late 1980s when rap began to gain mainstream popularity. I just couldn't bring myself to play it or buy it. It in 1989 I closed up my DJ business and sold off the majority of my equipment, scaling it down to some basic hifi gear.
The net result of running a DJ business led to my starting my own design business in 1991. I loved working for myself and trying to meet the needs of paying clients. I like being able to work less by charging higher fees and performing a unique specialized task. Today I've owned my own graphic design firm for 19 years and I think some of the roots of owning and running a business came from those teen experiences with my DJ business.