The Best and Worst of Prague Czech Republic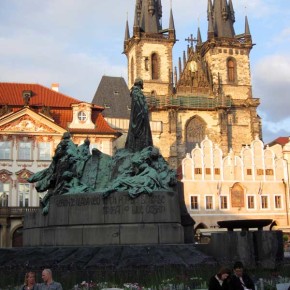 Prague was on my list of the top seven cities to see in Europe, so when I was in Dresden I discovered that Prague was only a few hours away by bus. So, although I had not planned on going to Prague so soon in my trip, it financially made sense to do it after Dresden. Prague is an amazing city with loads of history. I've made a short list of the things I liked most about it and the points I liked least.
Charles Bridge: this bridge is beautiful and spans a majestic river and is closed to motorized vehicles. I recommend seeing it at sunset and spending some time wandering around taking photos of the dozens of statues and looking at street vendor trinkets. There are usually several entertainers working for tips that make the whole experience quite wonderful! You can see Prague castle on one side and the old city plaza on the other.
Prague Gates: there are at least two large stone gate type towers that I saw. One stood on the city side of the Charles bridge and the other just south of the main city plaza. Both are impressive and great for photos. I believe for a small fee you can go up in the tower by the bridge.
Prague Square: the central plaza and square in Prague is amazing (pictured here). There is a statue in the middle and it is surrounded by buildings of several designs including the famous church with the astrological clock.
The Beer & Food: the beer is Prague is as cheap as water and less expensive than soda. Try it along with a traditional Czech meal like pork knuckle or massive ribs on a wood platter.
Drugs: I had no idea that most drugs are legal in the Czech Republic. I didn't do any or buy any, but apparently you can have several tablets of LSD, cocaine, pot and other drugs on your person at anytime. They claim they have more legal drugs in their country than any other in the EU… certainly more than the infamous Amsterdam!
Prague Castle: I walked from one side of Prague to the other and up to the Castle on the hill. I didn't pay to get in, but the exterior of the castle and guards at the gates were fun to see!
Dancing Building: I will admit this is not really historical in anyway, but I love the new architecture of the Dancing Building (to the right). One must admit it has a very funky, unusual shape!
There are very few things I liked about Prague:
Giant Metronome: avoid hiking a tall hill to go see the giant metronome. In my opinion, it is hardly artistic and a complete waste of energy and time.
Cost of Laundry: I'm not sure why it costs so much to do laundry in Europe. It was almost $12 to run a load at the place I was staying. And going to the laundry mat to do it myself only saved me about $2.
Soda is expensive in most of Europe, Prague is no exception.
Stag & Hen Parties: because beer and drinks are so cheap, those throwing parties a few days prior to getting married find it cheaper to fly to Prague to buy massive amounts of booze than to do it at home. The partiers are so wild and out of control that even vacationers wanting to get drunk are annoyed at the over abundance of stag partiers.
Taxis: I was told that taxi drivers are not to be trusted for prices and they typically try to take advantage of tourists.
Theft: You have to be careful both in a hostel and while sight seeing. Theft is higher here than in the richer European countries.