Espresso Booths in Washington
I've been to a lot of coffee shops in lots of different places in the USA as well as other countries, but I must admit I was a bit surprised by the small Espresso shops in Washington state, especially those with the scantily clad bikini girls. Each of the shops had a different theme. Some sported castle shaped buildings while others went with the Sante Fe Mexican style architecture. I even saw one with Dutch windmills.
Washington state has a long history of coffee and being at the forefront of new coffee related businesses. Case-and-point, the grand-daddy of all coffee companies, Starbucks, got its start in Seattle, Washington. As such, we might want to look at Washington as the leader in trends where coffee is concerned. That said, perhaps it won't be long until these little booths will be popping up in little used parking lots near you to serve drive-up coffee, espresso or your favorite gourmet hot drink
Bikini and Lingerie Barista Girls at Drive-Thru Espresso Stand
I just had to do a double take as I pulled up to the Bendy Coffee Company espresso booth in Lacey, Washington. I opened my window and a very attractive young lady ask me if she could serve me a drink. I ordered a coffee to go (well, I guess everything is to go in a drive-thru espresso booth). She then went to work making my drink. It was hard not to stare at her butt cheeks being displayed because of her lingerie thong she was wearing. She was not wearing a top, but instead star shaped pasties. I should mention I brought along a local to help take photos. The volunteer was my sister who is a local resident of Lacey, Washington (which is a part of Olympia). My sister stood by and snapped pictures to document the process and was amused by my reactions to the whole process.
Mexican Theme Espresso Stand
One of the other espresso booths I liked went with the Mexican architectural theme. The place, simply called Jonhnie's Coffee Cafe had nicely crafted their booth to follow the hispanic style of the southwest. The roof line had a nice arch in the middle much like classic buildings seen in Mexico and the southwest USA. Small details like the wood work on the beams supporting the small roof overhang were cut in a decorative angle. The trim above the serving window and glass doors were curved and painted in contrast the sand colored stucco. Even the roof was colored in deep red similar to rich tiles found in Mexico.  I felt it carried the regional theme better than most of the stands I saw. Good job guys!
Toll Booth 520 Espresso Stand
With all the talk about re-establishing tolls on the Highway 520 bridge, it might be time for a coffee break at Tollbooth Espresso. The Juanita espresso stand will not only provide a java jolt, it's also a reminder of the days nearly 30 years ago when motorists had to pony up change to cross Lake Washington. The stand is actually a 1963-vintage tollbooth that once stood sentry at the east end of the 520 bridge. "They [customers] always ask, 'Aren't they going to need it back soon?' " said Lisa Carlson, barista at the stand at 12116 Juanita Drive N.E. As the state considers putting tolls back on the bridge, lots of her regulars are talking.
Coffee Pot Espresso Stand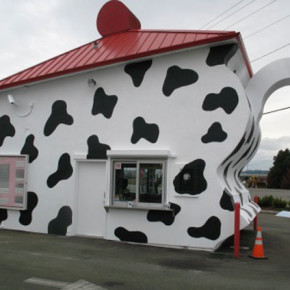 Auburn's stylized coffee pot-shaped coffee stand was originally a Perky's Coffee House. At some point it was transformed into a Cowgirls Espresso Stand, a chain of cow-spotted coffee stands with bikini-clad baristas; the Auburn one, though, is the only one shaped like a coffee pot. Photo via the Cowgirls Espresso website.
Castle Shaped Expresso Booth
Although I'm not a fan of the day glow green and white color theme, I did like the shape and design of the castle shaped Espresso booth. My sister, the expert in the area, told me that the color scheme was new and that the booth had been previously been painted more consistent with a castle. Personally I think the owners were moving in the wrong direction with the colors of the booth as I would have preferred something more like the Disney castle. If you have some interesting espresso booths that you can recommend, please comment or provide some feedback. i'd like to expand the collection on this page!