Cuenca, Ecuador
Cuenca is up in the mountains and while the coastal cities typically have temperatures in the 80s, the average daytime temperature in Caunca is around 70 year round. Combined with the dry air, Caunca has become a top destination for Ex-Pats from Canada and the USA. The city is filled with Americans and Canadians who enjoy the extremely low cost of living while enjoying fabulous weather year round. I spent a total of four days here.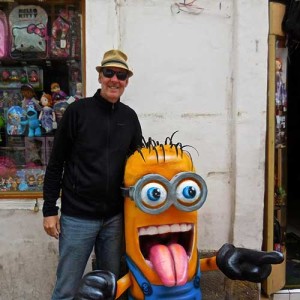 Minions
On the weekends many of the electronics and toy stores put out life size cartoon and super heros near their store fronts to attract shoppers. A local snapped this photo of me standing next to a minion.
Cathedral
One block from my hostel was the central park and a massive Cathedral. For $2 I took a tour of the crypts and climbed the stairs to the rooftop for a view of the park and city.
Relaxing
I didn't do a whole lot while here; mostly I just relaxed and enjoyed the city walking around the downtown area. I visited a museum to see shrunken heads and spent one afternoon on a bus to the Caja National Park outside of the city further up in the mountains.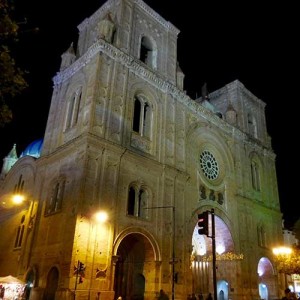 Star Wars Episode 7
I admit it, one of my reasons for visiting Cuenca was because it was the weekend opening of the new Disney release of Star Wars Episode VII. I was able to view the movie with the owners of the hostel at a local theater, in English, 3D and surround sound (with Spanish sub-titles). The movie exceeded all conceivable expectations for me (not hard since I'm a big Star Wars fan).