Ding-Ding-ah Trolley in Hong Kong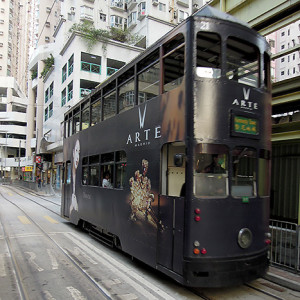 I find the name both amusing and fun at the same time. Ding Ding-ah is what locals in Hong Kong call the trolley tram that runs down the middle of the street. I'm told the name comes from the sound it makes. Each trolley has a bell that it rings instead of a horn, "ding ding". Attached to the "ding ding" is the ever-so-common sound "ah" which Cantonese speakers like to add to many English words if those words fall as the very last word in a sentence (examples: OK-ah, U-Turn-ah, Bye-Bye-ah). This same pattern of adding "ah" to English words is also common in Taiwan when speaking Mandarin, but in Taiwan it is considered a more 'informal' type of speech used among friends.
The Ding-Ding-ah is both the slowest, and cheapest, form of transportation in Hong Kong. For $2.30 HK (about 25¢) you can ride the entire length of the route on a ding ding-ah. Although the ding-ding-ah is the slowest form of public transportation in Hong Kong, it is also the funnest. Trolleys are all double-decker with lots of windows. It is really fun to sit on the upper deck and people watch, especially at night. A ride past the times square area is really fascinating and a great experience for tourists wanting a slow interesting ride through the downtown area.