Santiago, Chilé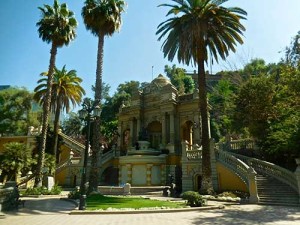 I really enjoyed this large city due to the combination of fabulous old Spanish architecture combined with modern structures. This was the first city in Latin America where I felt more like I was in Europe than in the Americas.
Parks, Hills and Architecture
I actually don't have a lot to write about in Santiago; for me, this was a rest stop for me to slow down, relax, and just recharge. I wandered around the city a little bit, but I didn't go to museums or take any tours. I saw two movies here and wandered around parks and streets. I did spend one afternoon climbing the hill at Santa Lucia which was near my hostel, but because I was being lazy, I didn't take the Funicular (tram car) or hike up the larger San Cristobal hill. Overall I really enjoyed the city and just relaxing.
Costs in Santiago
Prices are getting higher and higher the further south I travel. Costs for food in Santiago were about the same as US cities with meals costing around $8 to $12. Because I'm trying to keep to a low budget, I started cooking for myself. I did go out to eat for a late lunch each day. My hostel included breakfast so I just made myself a late snack each day.
Hostel: $15/night (shared dorm).
Food: $8-$12 meal for lunch or dinner